---
H- litter

21st July - 7 puppies were born.
2 girls: 1 blue merle and 1 brindle pointed tricolor
5 boys: 4 blue merle and 1 brindle pointed tricolor




Felicita Corlan Gi and Cymraeg Ci Guns´n Roses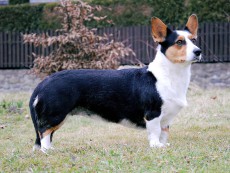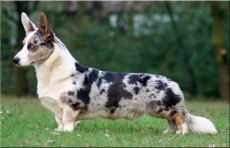 Felicita is show succesfull girl with obedience examination. She is very nice, inteligent, friendly girl. She has excelent coat, great chest and front, very good angulation, strong back, nice long neck, very good angulation and movement.
Mickey is very nice, charismatic and friendly and one of the most succesfull dog in Europe. He is from Belgian kennel Cymraeg Ci. His pedigree is full of the best Belgian, Duch, American and Norway dogs.
Mickey is X-rated (hips, elbows, spine) with the best result, PRA free. He has very nice nature - friendly with unknown people and other dogs. He has very nice angulation, chest, excelent top line, head expresion and movement. Nice, big, good placed ears, nice coat and color. He is all teeth, correct scrison bite.
Micky´s page here.
What more can we want?
We expected puppies with nice exterier, health, excelent character. Puppies will be good as a good friends or as a show promising dogs. Puppies should be blue merle or tricolor.
Girl1
blue merle
Hedyne

Girl 2
tricolor
Hannah


Boy 1
blue merle
"ocásek"

Boy 2
blue merle
Holmes

Boy 3
blue merle
Hooligan

Boy 4
blue merle
Hopkin

Boy 5
tricolor
Hamlin


EXTERNÍ FOTOGALERIE ZDE:
1. week of puppies' life
Weight:

| | | | | | | | |
| --- | --- | --- | --- | --- | --- | --- | --- |
| Date (g) : | 21.7. | 23.7. | 25.7. | 28.7. | 2.8. | 6.8. | 9.8. |
| Hedyne | 290 | 350 | 400 | 540 | 720 | 880 | 1090 |
| Hannah | 240 | 310 | 340 | 510 | 710 | 900 | 1020 |
| "ocásek" | 290 | 310 | 340 | 420 | 540 | 670 | 770 |
| Holmes | 260 | 310 | 380 | 530 | 790 | 960 | 1160 |
| Homer | 300 | 330 | 390 | 530 | 710 | 870 | 1050 |
| Hopkin | 270 | 310 | 340 | 450 | 680 | 870 | 980 |
| Hamlin | 300 | 360 | 450 | 580 | 820 | 1030 | 1240 |
| | | | | | | | |
| --- | --- | --- | --- | --- | --- | --- | --- |
| Date (g) : | 13.8. | 17.8. | 25.8. | | | | |
| Hedyne | 1360 | 1580 | 2000 | | | | |
| Hannah | 1290 | 1540 | 2050 | | | | |
| Holmes | 1470 | 1680 | 2200 | | | | |
| Homer | 1310 | 1580 | 2000 | | | | |
| Hopkin | 1170 | 1360 | 1700 | | | | |
| Hamlin | 1580 | 1850 | 2400 | | | | |
Pedigree:
Cymraeg Ci Guns'n Roses




Rarebit Blackjack Boyd

Copperleaf Burnt Spice
Memini Hot Doggy Dino
Copperleaf Peach Bonnet
Floatin' Zipporah
Floatin' Blue Quink Spots
Floatin' Black Inchyra

All Trade Minnie the Moocher

All Trade Gravytrain
Trenwydd Silver Wizard
All Trade Cactus
Thamsmere Breakaway at Gowerston
Joseter Doublewood
Gowerston Christmas Carol

Felicita Corlan Gi

Yardigan US Westwyn Leo


Spectrum Harlem Shuffle



Phi-Vestavia Nautilus

Davenitch Blackfox Barketa




Yardican Lledrith

Deavitte Oakleaf

Faydom Sparkling Moonstone

Enotria Corlan Gi

Blondie´s
Quickstep to Heaven
Blondie´s
Noble Man
Beckrow Beam
Me Up To Powdermill


Branwen Lisiura

Smultronbackens
Douglas
Hopeful Havana
Birkebakken´s